Biography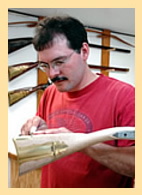 Who is Mark Wheland?
I was born in Central Pennsylvania, where I live today. I saw my first Pennsylvania Longrifle when I was a teenager, and I was fascinated by them immediately.
I began to build my own rifles in 1992, but I also worked and raised a family, practicing my rifle-building skills as a hobby. I received a lot of positive feedback about my work.
Beginning in 1999, I apprenticed to Allen Martin, and since that time I have won numerous awards at Dixon's Gunmakers Fair, including Best Of Show in 2005.
My rifles have been seen in Muzzleloader magazine and Westsylvania magazine, as well as on the cover of Muzzle Blasts magazine.
As a full-time gunsmith, I take tremendous pleasure in recreating the beautiful and distinctive firearms of our history, using the finest materials available and traditional methods. No rifle leaves my shop until I feel that it is the very best work that I can do. I stand by my words, always offering "the finest custom-crafted American Longrifles".
Visit my Events page, where you will see my schedule. I would be happy to meet you at a show soon.
Please contact me, using the information below, to discuss a custom-crafted Longrifle for you.
Yours truly,
Mark Wheland